How to insert text in a flash movie ?
You can create three types of text fields: static, dynamic, and input.
1. Static text fields display text that doesn't change characters dynamically.
2. Dynamic text fields display dynamically updates text, such as sports scores, stock quotes, or weather reports.
3. Input text fields enable users to enter text in forms or surveys.
To insert text, you place text blocks on the Stage using the Text tool.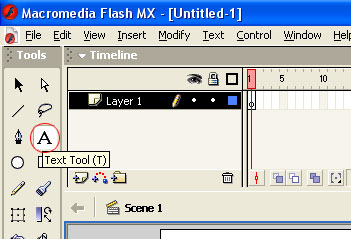 When creating static text, you can place text on a single line that expands as you type, or in a fixed-width block that expands and wraps words automatically. When creating dynamic or input text, you can place text on a single line, or create a text block with a fixed width and height.

After you use the Text tool to create a text field, you use the Property inspector to indicate which type of text field you want and set values to control the way the text field and its contents appear in the Flash movie. You can change the font, font size, text alignments and so on....

These are the basics of inserting text to a Flash Movie.